Restricted Electrical Training
Course Outcome: Statement of Attainment in competencies as per your training permit
To be eligible to enrol you must have:
1. Queensland Electrical Training Permit from the Electrical Safety Office after submitting a Form 21.
2. Be employed in a trade or calling where electrical work is an occupational need.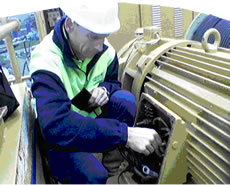 Disconnecting and reconnecting a motor on an overhead crane with the Gabba in the background
Firstly, you need to apply for and be issued a training permit using Form 21. Then you can complete both on and off job training. Think of the training permit is like a learner's permit when applying for your driver's licence. You can't legally drive on the road unless you have a licence or learner's permit. Likewise, you cannot perform electrical work without a licence or permit (unless you fall under an exemption under the Act) so to complete your on-job training, you must have a Training Permit.

Secondly, you must be employed, or self employed. After completing your training, you then need to reapply for your licence, this time using a Form 31.

Your employer (or if you are self-employed, you) will also sign Form 39 - Completion Statement in order to get your licence. You cannot do this if you are unemployed.
The Licensing Dept will send you a Training Permit to permit you to perform the on-job training. Once you have the Training Permit, you can commence the required on-job training under supervision using either the Record of Training Book (Specialised) or (Restricted). The sections you are required to complete will be explained to you during the off-job training course, which you can also commence. For the next off-job training course, see below.
Theory Assessment:

In accordance with the competencies you need to complete.

Electrical Principles (ac & dc)
Electrical Safety Principles
Equipment Testing
Protection (Circuit Breakers, Fuses, RCDs)
Earthing MEN, protective earthing systems, equipotential bonding, main earthing, functional earthing

Practical Assessment:

In accordance with the Queensland Legislation, Code of Practice: Managing electrical risks in the Workplace and the Australian/ NZ Standards framework.

You will be required to complete three occurences of each competency.
| | |
| --- | --- |
| Duration: | Depends on your training permit - between 4 to 8 days |
| Location: | on-site |
| Class Size: | Prefer 6 - 8 students |
| Cost: | From $1650.00/student (depending on training permit) + flights + accomodation (if necessary) |
| Date: | Contact Chris to book in a time that suits us both |
| Still interested: | Please contact me preferably by email(chris@qet.edu.au) or see contact details. A 20% deposit will secure your place in this course (refer to page 5 of the Student handbook in the footer with regard to QET's refund policy). |
There are really no other options. The delegations (see below in the footer) from the ESO are quite clear. You need to see whether your qualifications and or experience meets these delegations and that your job has an occupational need. Call me if you are unsure.
The Legislation states that the length of time is when you, your employer, and SRTO (training organisation) deems you competent. The ESO will issue your licence once all three have signed a Form 39 - Completion Statement. So how long this takes depends on how long it takes you to complete the on-job training and your supervisor deems you competent, for restricted licences this can be between a few weeks to a few months, depending on your access to performing the electrical work. Call me to discuss.