QET has provided High Voltage Training for electricians since 2005 when first approached by SunWater. QET has now delivered this training to other water suppliers, city councils, power stations, mines and refineries.
Course Outcome: QET is registered to deliver the UEEPOPS competencies or UETTDRIS competencies, depending on the units you require. Click on Scope of Registration for the full list of HV competencies.
To be eligible to enrol you must:
1. Have access to High Voltage equipment and system.
2. Have a Queensland Electrical Licence (Others can undertake this training, e.g. electrical engineers and maintenance fitters, however they won't be able to complete the competencies that require electrical work as defined by the Legislation).
3. Be employed in a position that requires high voltage operator/assistants.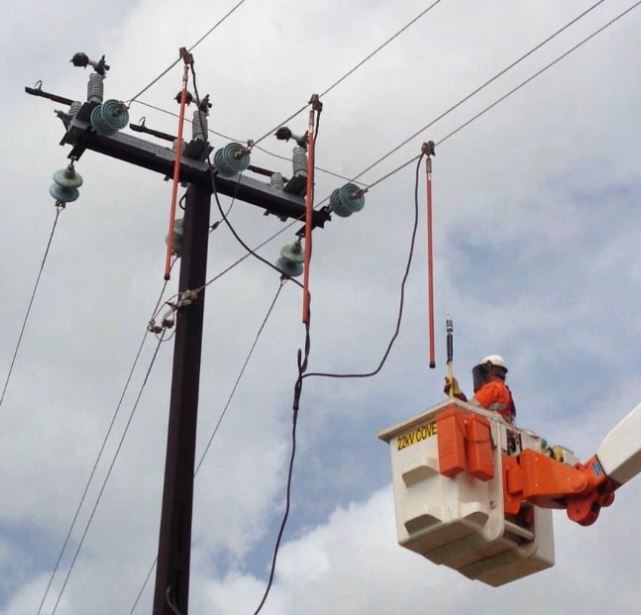 Testing and attaching overhead earths in Nhulunbuy Gove, NT.
| | |
| --- | --- |
| Firstly, as for any competency, students need to complete both the on and off job training. You therefore need to be employed in a position where your employer requires you to perform HVIA. Completing the training in a classroom environment and using simulated equipment will not qualify you to work on any equipment anywhere. That's just dangerous. It's important that you understand the HV system as well as the idiosyncracies of the equipment you need to switch. | Secondly, you also need access to high voltage system that you are required to switch. Every high voltage system is different, from reticulation systems to mines and refineries. Understanding the system ensures reliability of the system, which is paramount. Writing switching sheets for a reticulation system is different to writing switching sheets for mines and refineries, which is different to writing switching sheets for a Power Station. You need to understand your system. |
High Voltage training is delivered on site and usually over a four day period, with refresher training every two to three years. I say usually as it may be less for smaller groups and simpler HV configuration, to longer, with larger groups and more complex HV configurations. Learning guides are prepared using your HV system, your HV protection, and your HV switching "lingo", and your HV Access Permits. The training integrates both theory and practical, and there is normally a requirement to finish the on-job training after I go. However, while I'm there, I can issue a Statement of Results if required, but to gain the competencies, the complete on-job training needs to be completed in accordance with the competency discriptor, normally under the supervision of a qualified HV Operator or HV Supervisor.
Theory Assessment:

In accordance with the competency discriptors.

Electrical Principles %Z, fault levels, circulating currents
Electrical Safety Principles switching, earthing, testing
Protection Relays / systems
Earthing
Switching sheets, access permits

Practical Assessment:

In accordance with the Queensland Legislation, ENA Guidelines: Company policy and procedures.

Complete three switching programmes (writing and switching, testing and earthing, isolation and deisolation).
| | |
| --- | --- |
| Duration: | normally 4 days |
| Location: | on-site |
| Class Size: | Prefer 7 - 8 students |
| Cost: | $1650.00/student + flights + accomodation |
| Date: | Contact Chris to book in a time that suits us both |
| Still interested: | Please contact me preferably by email(chris@qet.edu.au) or see contact details. A 20% deposit will secure your place in this course (refer to page 5 of the Student handbook in the footer with regard to QET's refund policy). |
QET has been asked to provide just the high voltage training and issue Statements without real practical experience. I will not do this.
The training is generally run over four days. Where the system is quite complex, the refresher training will vary and look at different parts of the HV system. Over time, the course evolves, as do the company policies and procedures, to ensure a safe working environment. I have been working with some of my HV clients for many years, and have been involved in developing their procedures. This development work has assisted other HV clients to better develop their own systems.