Electrical Mechanic Licence
QET has provided Gap Training for electricians from overseas or assisted electrical fitters to gain their electrical mechanic licence since 2003
Course Outcome: UEE30811 Certificate III in Electrotechnology Electrician
To be eligible to enrol you must have:
1. Offshore Technical Skills Record OTSR or Queensland Electrical Fitter licence.
2. Queensland Electrical Training Permit from the Electrical Safety Office after submitting a Form 11.
3. Be employed as an electrician.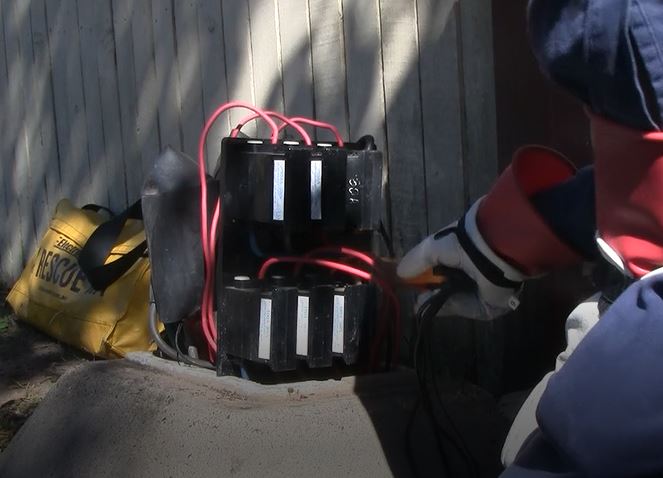 Chris Williamson determining the correct consumer mains for isolation
| | |
| --- | --- |
| Firstly, Electricians from overseas will need to obtain an Offshore Technical Skills Record (OTSR) to be eligible for an electrical mechanic training permit from the Queensland Electrical Safety Office. Those with an electrical fitter licence can apply straight away for their electrical mechanic training permit, only do so once you have the supervisor and work (installation of wiring systems, e.g. TPS, enclosed, underground, tray, armoured, etc) organised. Queensland Electrical Training (QET) will then assist you through the licensing process to enable you to gain your Queensland electrical mechanic licence. | Secondly, you must be employed. Getting suitable employment is the hard part. It is difficult to gain employment with just the training permit in your pocket. If you are having difficulties, please contact me by email, giving me permission to pass your details onto the hundreds of overseas electricians I have helped. They all know the difficulty; there is every chance one of them will be able to put you on so that you can gain Australian experience. If you are an electrical fitter, you probably have already lined up your supervisor. If not, again contact me and I may be able to find employment with others that have completed this training. |
Once you have received your training permit and are employed, please email me your OTSR or electrical fitter licence, Training Permit and name and contact details of your employer/supervisor. I will then send you a letter of offer that explains the training strategy, time to complete, assessment etc through QET. If you wish to accept the offer, you will need to pay a 20% deposit, and then I will contact your supervisor to discuss the mentoring, and send you your training materials.
Once you have received your training materials, you need to purchase AS/NZS 3000 (Wiring Rules) and work your way through my books. These books have been used by a lot of students and although at the beginning students would constantly email me to ask me how I get one answer or another, these emails are fewer and fewer as I kept modifying and adding to the learning guides. Now I just get the one or two emails now and again (much easier).
Theory Assessment:

In accordance with the gap training requirements.

Electrical Safety Principles
Wiring Rules
Cable Sizing
Protection Sizing
Earthing

Practical Assessment:

In accordance with the Queensland Legislation, Code of Practice: Managing electrical risks in the Workplace and the Australian/ NZ Standards framework.

You will be required to complete a full installation test.
| | |
| --- | --- |
| Duration: | 2 days |
| Location: | 13 Leven Street Coopers Plains QLD |
| Class Size: | 1 - 2 students |
| Cost: | $4250.00 |
| Date: | Contact Chris to confirm dates for assessment. |
| Still interested: | Please contact me preferably by email(chris@qet.edu.au) or see contact details. A 20% deposit will secure your place in this course (refer to page 5 of the Student handbook in the footer with regard to QET's refund policy). |
To obtain an electrical mechanic licence in Queensland (electrician's licence) your options are to either 1. complete an apprenticeship, or 2. qualify for an OTSR and go through this process, or 3. hold an electrical fitter licence and go through this process. The delegations from the ESO are quite clear.
The Legislation states that the length of time is when you, your employer, and SRTO (training organisation) deems you competent. The ESO will issue your licence once all three have signed a Form 39 - Completion Statement. So how long this takes depends on a number of factors, e.g. the type of work you are performing, are you installing wiring systems, are you just installing data or solar, are you working on a mine site and just performing PMs. So the time is different for everyone. Call me to discuss.