Electrical Fitter Licence
Course Outcome: UEE33011 Certificate III in Electrical Fitting
To be eligible to enrol you must have:
1. Electrical mechanic licence. Or
2. Queensland Electrical Training Permit from the Electrical Safety Office after submitting a Form 11 as you have a trade or craftsman certificate in Electrical Fitting.
3. Be employed as an electrician performing electrical fitting work.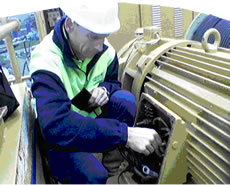 Disconnecting and reconnecting a motor on an overhead crane with the Gabba in the background
| | |
| --- | --- |
| Firstly, if you have come from overseas or interstate, there is every chance that your Queensland licence issued to you from the Queensland Electrical Safety Office is endorsed electrical mechanic only. There is nothing wrong with this licence and you are licensed to perform the work of electrical fitter as well as the work of electrical mechanic. However, you may see most Queensland licence holders have their licence endorsed both electrical fitter and electrical mechanic, and either want to have the same, or an employer wants you to have both licences endorsed. Queensland Electrical Training (QET) will then assist you through the licensing process to enable you to gain your Queensland electrical fitter licence. | Secondly, you must be employed in a job where you are able to gain electrical fitter skills. Fitting skills are where you maintain and repair electrical equipment, build switchboards and control panels, or perform PMs on low or high voltage equipment. Logging this information in a diary or exercise book (signed on each page by your licensed supervisor) will complete the on-job training, then you will need to complete an assessment for those areas of the Australian Standards Framework which relate to electrical fitting. Holding either your trade as electrical fitter or a trade as electrical mechanic will be recognised that you currently hold certain competencies. These skills must be current, that is completed within the last few years. |
If you decide to pursue your electrical fitting licence, and you currently hold an electrical mechanic licence, there is no requirement to gain a Training Permit. If you hold the trade of electrical fitter, but no licence, then you will need to apply for a training permit from the Electrical Safety Office.
Theory Assessment:

In accordance with the Australian Standards Framework for electrical fitter.

Electrical Safety Principles
Wiring Rules
AS/NZS3760
Protection Sizing
Earthing

Practical Assessment:

In accordance with the Queensland Legislation, Code of Practice: Managing electrical risks in the Workplace and the Australian/ NZ Standards framework.

You will be required to complete a disconnect/reconnect of a three phase motor. Faults will be introduced to the practical assessment.
| | |
| --- | --- |
| Duration: | 2 days |
| Location: | 13 Leven Street Coopers Plains QLD |
| Class Size: | 1 - 2 students |
| Cost: | $3750.00 |
| Date: | Contact Chris to confirm dates for assessment. |
| Still interested: | Please contact me preferably by email(chris@qet.edu.au) or see contact details. A 20% deposit will secure your place in this course (refer to page 5 of the Student handbook in the footer with regard to QET's refund policy). |
To obtain an electrical fitter licence in Queensland your options are to either 1. complete an apprenticeship, or 2. qualify for an electrical training permit as electrical fitter or 3. hold an electrical mechanic licence and go through this process. The delegations from the ESO are quite clear.
The Legislation states that the length of time is when you, your employer, and SRTO (training organisation) deems you competent. The ESO will issue your licence once all three have signed a Form 39 - Completion Statement. So how long this takes depends on a number of factors, e.g. the type of work you are performing, are you able to get consistant electrical fitting work, are you working on a mine site and just performing PMs; so the time is different for everyone. Call me to discuss.